Lawn Sprinkler Repair Service, American Property Maintenance has over 20 years experience repairing lawn sprinkler systems, drip irrigation repairs, sprinkler system valve repairs, sprinkler system valve replacement home sprinkler system repairs.
We always give FREE Estimates and all work is warrantied for one year we also have a wide variety of payment option Cash, Check, Credit Cards, PayPal.
We provide Lawn Sprinkler Repair Service to all of Pasco, Hernando, Hillsbourgh, Pinellas

Lawn Sprinkler Systems Repair
American Property Maintenance is Owner Operated meaning you will always deal with the Owner for lawn Sprinkler Repair Service.
We currently have three locations which helps us better serve all of Pasco County Florida and the Tampa Bay Area for lawn sprinklers repairs, home irrigation repairs, water sprinkler repairs, lawn sprinkler repairs, sprinkler system valve repairs, lawn sprinkler service, new sprinkler installation and much more.
Below we have listed some examples of Lawn Sprinkler systems repairs 
If you have any of the irrigation problems listed below please call (352) 277-7834. Our service techs have over 50 years experience.
Sprinkler System Maintenance, this is very important and gets over looked by a lot of home owners.
You should have American Property Maintenance come out at least twice a year to check your lawn sprinkler system. We check for leaks under ground that can sometimes be overseen.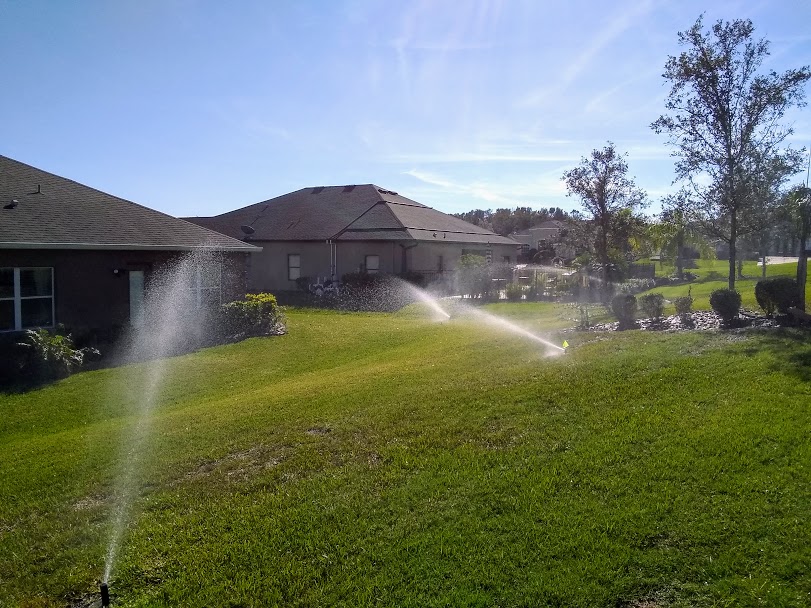 Lawn Sprinkler Repair Service
Irrigation System, Here is a list of some of the most common irrigation service calls we get Sprinkler Heads, Sprinkler system Valves and Lawn Sprinkler Timer Repairs and Upgrades.
Lawn Sprinkler System heads go bad over time with that being said if you have a yard that has Rotors you need to make sure they are all working properly. Rotors are gear driven and the gears in time wear out.
Sprinkler Valve Repair, this is one of our most common service calls for Lawn Sprinkler Repair service Pasco Fl. The reason sprinkler system valve repairs is our most common call is because over time the sprinkler system diaphragm wears out.
The worst thing you can do is not run your sprinkler system. The water is lubrication for the sprinkler system diaphragm.
When the sprinkler system is not being used the sprinkler system diaphragm dries out and causes the valve to either not open or the sprinkler system valve will not shut off.
Sprinkler valves are controlled by an electrical device called a solenoid, that has two wires coming from it one connects to the common and the other wire connects to the zone.
The sprinkler valve opens and closes the path for water to pass through.
The sprinkler valve has two opening for pipes to be connected, the inlet and the outlet. The inlet pipe brings water from the household supply or pump to the valve.
The inlet ends in the middle of the valve with a stopper called a diaphragm, which is held in place with a rod and a spring which are connected to the top of the valve housing.
When the solenoid is activated, it allows air inside the valve to escape. Without this pressure inside the valve, the diaphragm raises up and lets water flow into the outlet, and out into the Irrigation system.
When the solenoid is activated in the other direction, the opposite happens, and the diaphragm lowers back down onto a gasket, closing the sprinkler valve.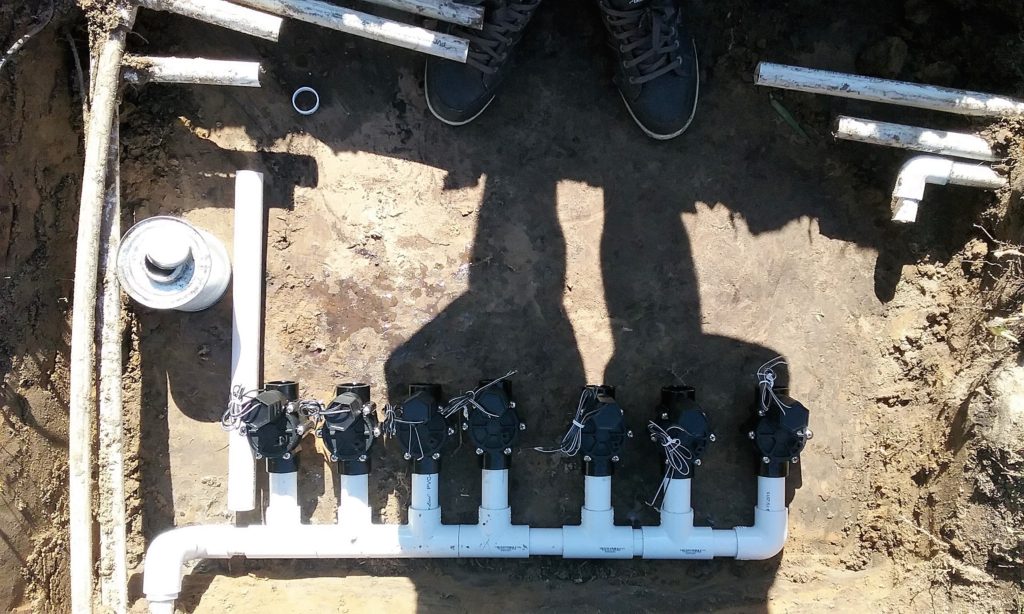 Lawn Sprinkler Repair Service, American Property Maintenance
Pool Revamps (Re connection after Pool install), This type of irrigation repair call is very important. Before the pool company rips out all the irrigation pipes call us.
We will locate your sprinkler pipes and cap them, we do this so when your pool is finished we can just rerun your sprinkler pipes around your pool.
Patios Revamps (Reconnection after Patio install), This type of lawn sprinkler service call is just like the above explanation.
If you are getting a patio put in call us first so we can locate your irrigation pipes, this will save you money when your patio is finished.
Wire Location, With this service call we have to decide if locating your sprinkler wire is worth the time or if just installing new wire is the answer. In most cases we just install new irrigation wire
We always provide FREE Estimates and all work is warrantied for one year Owner Operated.