Lawn Sprinkler Repair Spring Hill Florida, American Property Maintenance has over 20 years experience repairing sprinkler systems, sprinkler repairs, sprinkler valve repairs, sprinkler head repairs, sprinkler timer repairs.
We always give Free Estimates and all work is warrantied we also have a variety of payment options Cash, Check, Credit Cards, PayPal.
American Property Maintenance Sprinkler Repairs 34606, 34609, 34610, 34607, 34608, 34611

Spring Hill Sprinkler Repairs
Sprinkler System Maintenance, this is very important and gets over looked by a lot of home owners.
You should have American Property Maintenance come out at least twice a year to check your sprinkler system.
We check for leaks under ground that can sometimes be overseen.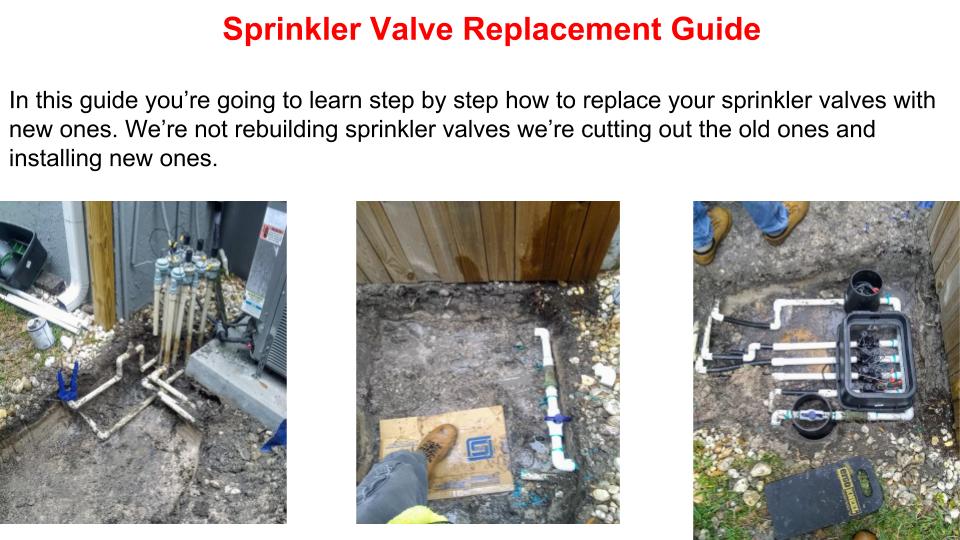 Sprinkler Valve Replacement, American Property Maintenance has over 20 years experience with sprinkler valve replacement.
The main reason to replace your sprinkler valves is due to age. If you've gotten over 10 years with the sprinkler valves you have it's time to replace them.
Unless you have Rain-Bird sprinkler valves.
Pool Revamps (Re connection after Pool install), This type of irrigation repair call is very important.
Before the pool company rips out all the irrigation pipes call us.
We will locate your sprinkler pipes and cap them, we do this so when your pool is finished we can just rerun your sprinkler pipes around your pool.

Patios Revamps (Reconnection after Patio install), This type of lawn sprinkler service call is just like the above explanation.
If you are getting a patio put in call us first so we can locate your irrigation pipes, this will save you money when your patio is finished.
Additional Zones Added, American Property Maintenance is the leader in irrigation designs.
We have been designing irrigation system for over 20 years. When it comes to making sure your lawn is being watered properly we have you covered.

Sprinkler Repair Spring Hill
When it comes to fixing a sprinkler control box there are only a few options. In some cases you can replace the cord that is coming from the sprinkler timer.
In another example there is a fuse in most irrigation timers and sometimes the fuse blows, you can just replace this with a new fuse.
If you have a sprinkler timer that has been around for a while it's just like any other device you may own.
Better sprinkler timers come out each year.
With that being said if you go with a Rain Bird sprinkler timer you will be happy, they are easy to operate and understand and they last the longest.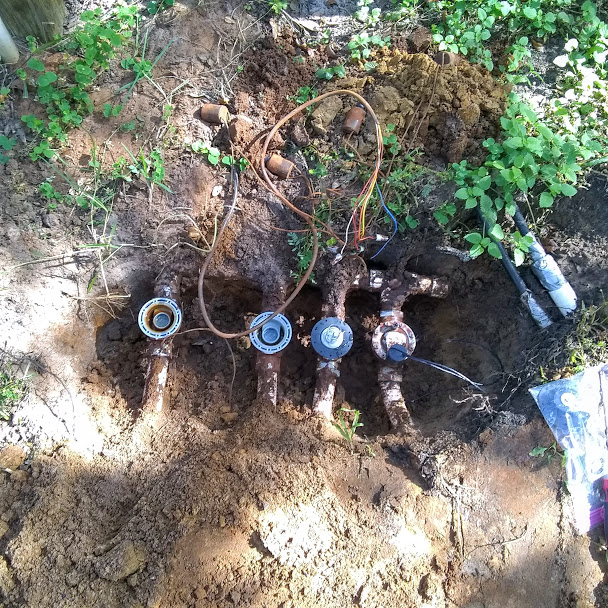 Sprinkler Repair Spring Hill, Sprinkler valves are controlled by an electrical device called a solenoid. 
The solenoid has two wires coming from it one connects to the common and the other wire connects to the zone.
The sprinkler valve opens and closes the path for water to pass through.
The sprinkler valve has two opening for pipes to be connected, the inlet and the outlet.
The inlet pipe brings water from the household supply or pump to the valve.
The inlet ends in the middle of the valve with a stopper called a diaphragm, which is held in place with a rod and a spring which are connected to the top of the valve housing
One of our most common Sprinkler Repair Spring Hill Florida calls is, My sprinkler pump is cycling on and off.
If this happens just shut your sprinkler pump off and call a Irrigation Expert.
There are several reasons this could be happening.
First example is if you have a pressure tank on your pump the bladder could be busted.
In this case we would install a new pressure tank for you.
Another example is your pressure switch on your pump needs to be adjusted.
If you try and do this irrigation repair yourself be careful, there are two screws on your pressure switch.
Your pressure switch has to be adjusted for each and every sprinkler zone you have.