Sprinkler Repair Bayonet Point Fl, American Property Maintenance is a sprinkler repair business located in Pasco County Fl with over 20 years experience in sprinkler repair service.
We are the leader in sprinkler repairs, sprinkler valve replacement, lawn sprinkler repairs, water sprinkler repairs, sprinkler valve repairs.
American Property Maintenance always provides Free Estimates and all work is warrantied for one year. We also have a variety of payment options Cash, Check, Credit Cards, PayPal

Sprinkler Repair Bayonet Point Fl, Sprinkler valve repairs are our most common sprinkler repair service call.
In many cases the Lawn Sprinkler Valves are so old that the parts are not interchangeable. In that case you have to cut the valve out and install a new one.
This is not a job I would recommend you try. Please call an irrigation expert
There are many reason why the cost to fix a Lawn sprinkler valve can be expensive.
The main reason is when most irrigation companies install a new Lawn sprinkler system they build the manifold wrong.
How they build it wrong is by bunching all the valves together.
When that happens you can not just cut out one valve out you have to replace each one.
The labor involved is intense and long.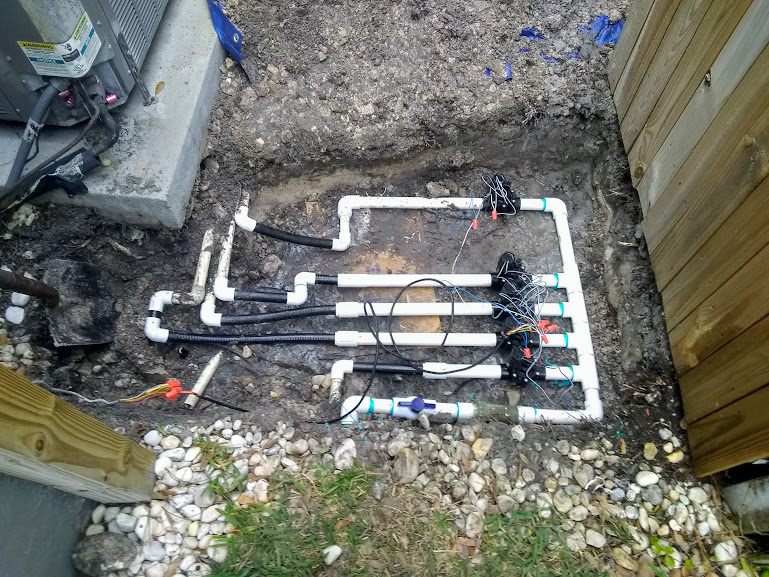 Lawn Sprinkler Repairs
Pool Revamps (Re connection after Pool install), This type of irrigation repair call is very important. Before the pool company rips out all the irrigation pipes call us.
We will locate your sprinkler pipes and cap them. We do this so when your pool is finished we can just rerun your sprinkler pipes around your pool.

Patios Revamps (Reconnection after Patio install), This type of lawn sprinkler service call is just like the above explanation.
If you are getting a patio put in call us first so we can locate your irrigation pipes, this will save you money when your patio is finished.

Drip irrigation, There are several different reason why we get calls about Drip Irrigation. In some cases people want drip irrigation installed in there landscaping.
Another reason is Drip irrigation Repairs, an example is the lawn company cutting the drip irrigation pipe.

Wire Location, With this service call we have to decide if locating your sprinkler wire is worth the time or if just installing new wire is the answer.
In most cases we just install new irrigation wire.