Lawn Sprinkler Repair Hillsborough County Florida, Hillsborough County, Florida is home to many beautiful landscapes, gardens, and lawns that require proper irrigation to maintain their lush greenery. Sprinkler systems are the best way to ensure that your lawn is properly watered and maintained, but like any other system, they are prone to malfunction.
If you're experiencing issues with your sprinkler system, it's important to call in the experts to avoid further damage and costly repairs. American Property Maintenance is the go-to business for all your sprinkler repair needs in Hillsborough County.
We understand the importance of having a functioning sprinkler system and we're committed to providing high-quality repairs and maintenance to keep your lawn looking healthy and beautiful all year round. Our team of professionals has years of experience in repairing all types of sprinkler systems, including residential and commercial properties.
One of the most common issues that we encounter in Hillsborough County is a sprinkler system that won't shut down. This can be caused by a variety of factors, including a faulty valve or a malfunctioning control system.
When a sprinkler valve won't shut down, it can lead to overwatering and even flooding, which can cause extensive damage to your property. That's why it's important to call in the experts at American Property Maintenance as soon as possible to prevent further damage.
Our team of professionals will thoroughly inspect your sprinkler system to identify the root cause of the problem. We'll then recommend the best course of action to fix the issue, which may include valve replacement, control system repairs, or other maintenance procedures.
We understand that time is of the essence when it comes to sprinkler repairs, which is why we offer fast and efficient services to get your system up and running in no time. Our team is equipped with the latest tools and technology to quickly diagnose and fix any issues with your sprinkler system.
In addition to sprinkler valve repairs, we also offer a range of other services, including sprinkler head replacement, drip irrigation installation and repair, and much more. We pride ourselves on providing top-notch customer service and high-quality workmanship to ensure that our clients are completely satisfied with our services.
So, if you're in Hillsborough County and need sprinkler repair services, don't hesitate to call American Property Maintenance. Our team of experts is ready to help you maintain a healthy and beautiful lawn all year round.

Sprinkler Valve Repair is one of our most common service calls for irrigation repairs. The reason irrigation valve repairs are our most common call is that a sprinkler valve has two main parts a diaphragm and a solenoid.
Over time a sprinkler diaphragm just wears out, especially if your sprinklers are being fed from a well. Not only does well water leave brown stains on your house, driveway, and any other thing the water comes in contact with.
The sprinkler pump is pulling water from the well, it's not only pulling water up from the ground but it's pulling dirt and rocks which can and will ruin your sprinkler system diaphragm.
The solenoid is on top of the sprinkler valve and has two wires coming from it, one wire is called you're common and the other wire starts your sprinkler system zone. Just like any other electrical device, it wears out in time.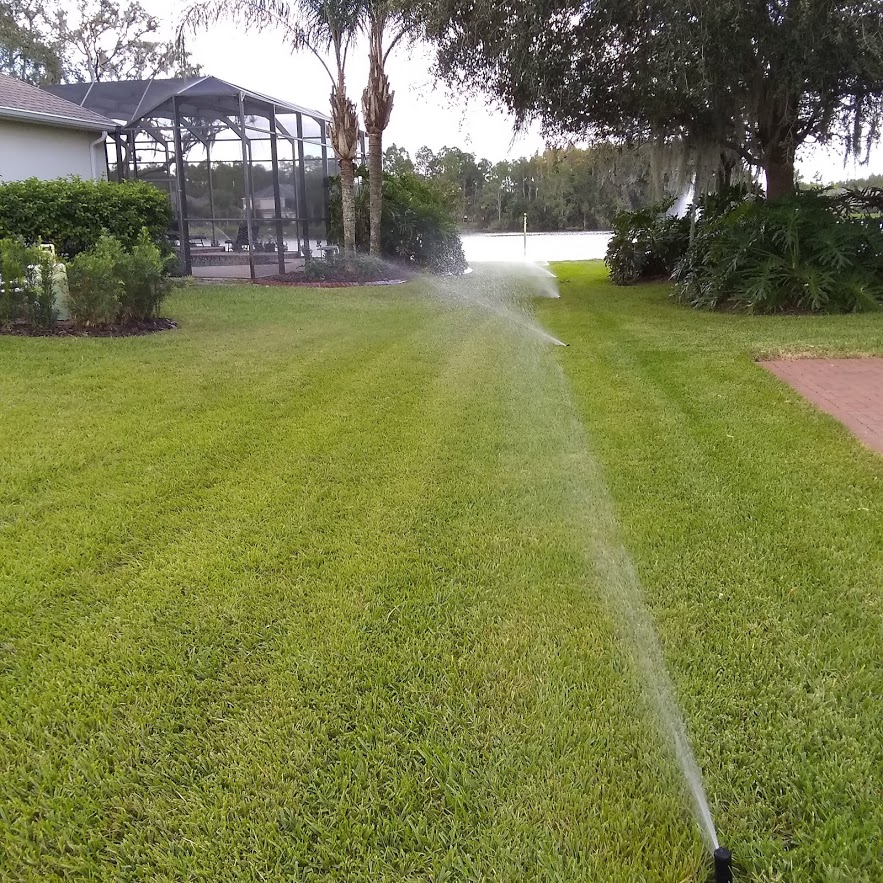 Lawn Sprinkler Repair Hillsborough County Florida
Sprinkler System Maintenance is very important and gets overlooked by a lot of homeowners. You should have American Property Maintenance come out at least twice a year to check your sprinkler system.
We check for leaks underground that can sometimes be overseen.
Pool Revamps (Re-connection after Pool installation), This type of irrigation repair call is very important. Before the pool company rips out all the irrigation pipes call us. We will locate your sprinkler pipes and cap them, we do this so that when your pool is finished we can just rerun your sprinkler pipes around your pool.

Patios Revamps (Reconnection after Patio install), This type of lawn sprinkler service call is just like the above explanation. If you are getting a patio put in call us first so we can locate your irrigation pipes, This will save you money when your patio is finished.
Additional Zones Added, American Property Maintenance is the leader in irrigation designs. We have been designing irrigation systems for over 20 years. When it comes to making sure your lawn is being watered properly we have you covered.
Valve, Manifold Location, This type of sprinkler repair service call can be time-consuming. As an irrigation expert locating valves is something I'm good at. We have certain tools that can help us locate your lawn sprinkler valves if needed.