Sprinkler Repair Trilby, Trilby, Florida, is a quaint community located in Pasco County, known for its peaceful countryside and serene natural beauty. As a homeowner in Trilby, one of your responsibilities is to maintain the health and beauty of your property, which includes your lawn and landscaping. A healthy and vibrant lawn requires a well-functioning sprinkler system, and when your sprinklers need repairs, it's important to call in the experts.
American Property Maintenance is the go-to company for all your Trilby sprinkler repair needs. We have been serving the community for over two decades, and our skilled technicians have the experience and knowledge to diagnose and fix any issue with your sprinkler system. Our services include everything from simple repairs to complete system overhauls, and we pride ourselves on our prompt and professional service.
One of the most common issues we see in Trilby is leaking sprinkler valves. Valves are an essential component of your sprinkler system, controlling the flow of water to each zone of your lawn. If a valve is leaking, it can cause significant damage to your lawn and landscaping, leading to brown spots and even dead patches. A leaky valve can also waste a considerable amount of water, leading to higher water bills and an environmentally-unfriendly situation.
It's important to repair your sprinkler valves as soon as possible to avoid any long-term damage to your lawn and landscaping. Our technicians are equipped with the latest tools and equipment to diagnose and fix valve issues quickly and efficiently. We can replace worn-out valves, repair leaks, and ensure that your system is functioning at optimal levels.
Don't let sprinkler issues ruin the beauty of your Trilby property. Call American Property Maintenance today to schedule an appointment for all your sprinkler repair needs. Our commitment to quality and customer satisfaction ensures that your lawn will be healthy and vibrant all year long.

Sprinkler Repair Trilby, American Property Maintenance one of the most common irrigation repair service calls we get is Sprinkler Valve Repairs. The reason irrigation valve repairs is our most common call is because a sprinkler valve has two main parts a diaphragm and a solenoid.
Over time a sprinkler diaphragm just wears out especially if your sprinklers are being feed from a well. Not only does well water leave brown stains on your house, driveway and any other thing the water comes in contact with. The sprinkler pump is pulling water from the well, it's not only pulling water up from the ground but it's pulling dirt and rocks which can and will ruin your sprinkler system diaphragm.
The solenoid is on top of the sprinkler valve and has two wires coming from it, one wire is called your common and the other wire starts your sprinkler system zone. Just like any other electrical device it wears out in time.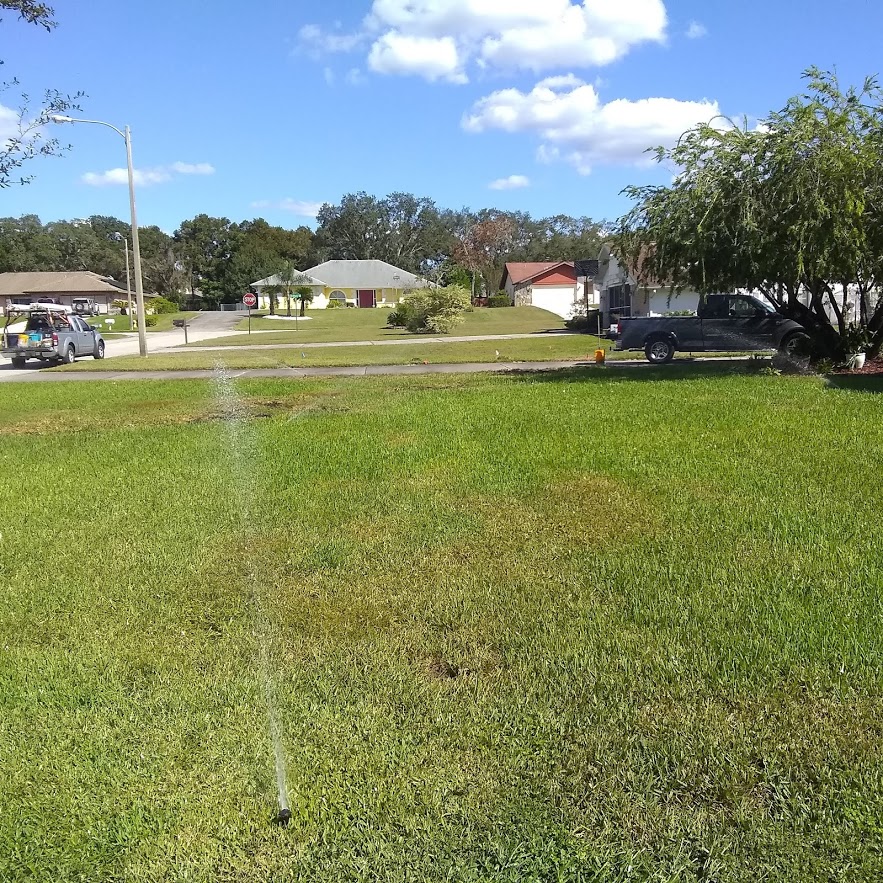 Sprinkler Repair Trilby, American Property Maintenance Irrigation Repair Examples.
Patios Revamps (Reconnection after Patio install), This type of lawn sprinkler service call is just like the above explanation. If you are getting a patio put in call us first so we can locate your irrigation pipes, this will save you money when your patio is finished.
Wire Location, With this service call we have to decide if locating your sprinkler wire is worth the time or if just installing new wire is the answer. In most cases we just install new irrigation wire.
Pool Revamps (Re connection after Pool install), This type of irrigation repair call is very important. Before the pool company rips out all the irrigation pipes call us. We will locate your sprinkler pipes and cap them, we do this so when your pool is finished we can just rerun your sprinkler pipes around your pool.