Lawn Sprinkler System Repair Odessa Fl, If you're a homeowner in Odessa, Florida, chances are you understand the importance of having a well-maintained sprinkler system. A properly functioning irrigation system can make all the difference in keeping your lawn and landscaping looking lush and vibrant. However, when issues arise, it's essential to have a trusted professional to turn to. That's where American Property Maintenance comes in.
At American Property Maintenance, we offer a wide range of sprinkler repair services for homeowners in Odessa, Florida, and the surrounding areas. Whether you need a simple fix or a more complex repair, our team of experts is ready to tackle the job. Here's a closer look at some of the services we provide:
Sprinkler Repairs: Our team can diagnose and repair all types of sprinkler issues, including broken or clogged heads, leaks, and damaged pipes. We can also fix electrical problems that may be preventing your system from functioning correctly.
Sprinkler Valve Repairs: Your sprinkler valves are essential components of your irrigation system, and when they malfunction, they can cause a variety of issues. Our technicians can diagnose and repair faulty valves to ensure your system is running smoothly.
Sprinkler Pipe Repairs: If you notice soggy or muddy spots in your lawn or landscaping, it could be a sign of a broken sprinkler pipe. Our team can locate the issue and repair it quickly to prevent further damage to your property.
Add Zones: If you've recently made changes to your landscaping or added additional green space to your property, you may need to add new zones to your sprinkler system. Our experts can help design and install new zones to ensure your entire property is getting the proper amount of water.
Drip Irrigation Installation: Drip irrigation is an efficient way to water your landscaping and can help reduce your water usage. Our team can design and install a drip irrigation system that's customized to meet your specific needs.
At American Property Maintenance, we take pride in providing high-quality sprinkler repair services to homeowners in Odessa, Florida, and the surrounding areas. Contact us today to schedule an appointment and keep your sprinkler system running smoothly all year long.

What Is A Sprinkler Valve?
Sprinkler valves are a critical component of your sprinkler system. They are responsible for controlling the flow of water through your irrigation system, allowing water to reach your lawn, garden, or landscaping.
The valve is made up of several parts including a solenoid, diaphragm, and various seals. When the sprinkler system is turned on, a signal is sent to the solenoid, which opens the valve and allows water to flow through. The diaphragm, which is located inside the valve, is responsible for controlling the water flow by opening and closing a small hole.
Over time, the diaphragm and seals can wear down, causing leaks and other issues. If you notice that your sprinkler system is not working properly, it may be due to a faulty valve. Common issues include low water pressure, uneven water distribution, and even complete system failure.
If you suspect that your sprinkler valve is not working correctly, it is important to contact a professional sprinkler repair service like American Property Maintenance. They can inspect your valve and determine if it needs to be repaired or replaced.
When it comes to repairing or replacing a sprinkler valve, is not a DIY project. A professional will need to shut off the water supply and disassemble the valve to access the diaphragm and other internal components. Once the problem has been identified, the valve can be repaired or replaced, and the system can be tested to ensure it is working correctly.
In summary, the sprinkler valve is a crucial part of your irrigation system, and any issues should be addressed promptly. American Property Maintenance is here to help with all your sprinkler valve needs, so don't hesitate to contact them if you suspect a problem.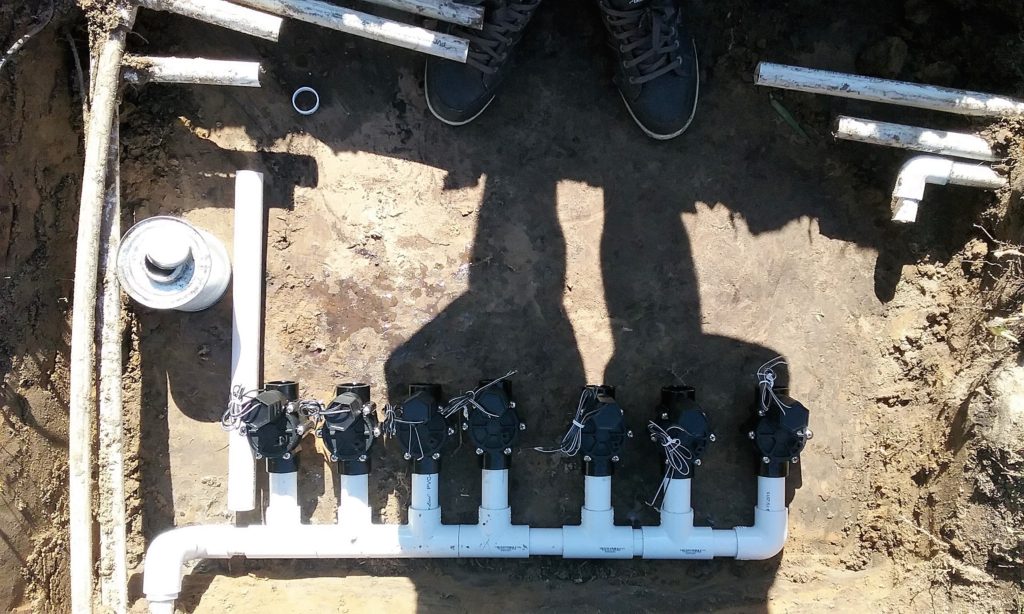 Sprinkler System Maintenance is very important and gets overlooked by a lot of homeowners. You should have American Property Maintenance come out at least twice a year to check your sprinkler system. We check for leaks underground that can sometimes be overseen.
Additional Zones Added, American Property Maintenance is the leader in irrigation designs. We have been designing irrigation systems for over 20 years. When it comes to making sure your lawn is being watered properly we have you covered.
Patios Revamps (Reconnection after Patio install), This type of lawn sprinkler service call is just like the above explanation. If you are getting a patio put in call us first so we can locate your irrigation pipes, this will save you money when your patio is finished.
Pool Revamps (Re-connection after Pool installation), This type of irrigation repair call is very important. Before the pool company rips out all the irrigation pipes call us. We will locate your sprinkler pipes and cap them, we do this so that when your pool is finished we can just rerun your sprinkler pipes around your pool.
Valve, Manifold Location, This type of sprinkler repair service call can be time-consuming. As an irrigation expert locating valves is something I'm good at. We have certain tools that can help us locate your lawn sprinkler valves if needed.
Drip irrigation, There are several different reasons why we get calls about Drip Irrigation. In some cases people want drip irrigation installed in their landscaping. Another reason is Drip irrigation Repairs, an example is the lawn company cutting the drip irrigation pipe.