Sprinkler Repair Bayonet Point Fl, If you're a homeowner in Bayonet Point, Florida, you know the importance of a well-maintained lawn and landscape. And when it comes to keeping your lawn looking its best, a properly functioning sprinkler system is a must-have.
But what happens when your sprinkler system isn't working as it should? Maybe you're noticing dry spots in your lawn, or maybe your system isn't turning on at all. Whatever the issue, it's important to have it addressed as soon as possible to avoid further damage to your lawn and landscape.
That's where American Property Maintenance comes in. Our team of experienced professionals specializes in sprinkler repair services for homeowners in Bayonet Point and the surrounding areas. Whether you're dealing with a minor issue or a major problem, we have the skills and expertise to get your system back up and running in no time.
One of the most common sprinkler system issues we see is broken or clogged sprinkler heads. This can cause uneven watering and dry spots in your lawn. Our team can quickly and efficiently replace any broken heads and clear any clogs to ensure proper watering of your lawn and landscape.
Another common issue is a malfunctioning controller. This can cause your system to turn on and off at the wrong times, leading to over or under-watering of your lawn. Our team can troubleshoot your controller and make any necessary repairs or replacements to ensure your system is running on the right schedule.
At American Property Maintenance, we pride ourselves on providing prompt, reliable, and affordable sprinkler repair services to homeowners in Bayonet Point and beyond. Don't let a broken sprinkler system ruin the beauty of your lawn and landscape. Contact us today to schedule your sprinkler repair service and get back to enjoying a healthy and vibrant lawn.

Bayonet Point, Florida, is a small unincorporated community located in Pasco County. As of the 2020 census, the population of Bayonet Point was approximately 23,000 people. While Bayonet Point is not a city, it is a popular residential area with a variety of housing options.
Housing in Bayonet Point is diverse, with a mix of single-family homes, townhouses, and apartment complexes. The median home value in Bayonet Point is $150,000, which is slightly lower than the national average. The cost of living in Bayonet Point is also relatively low compared to other cities in Florida, making it an affordable place to live.
When it comes to dining options, Bayonet Point has a variety of restaurants to choose from. For seafood lovers, the Fisherman's Shack is a local favorite, offering fresh catches and outdoor seating. For Italian cuisine, Luigi's Pizza of Bayonet Point is a must-visit, with a menu full of traditional favorites. Other popular restaurants in Bayonet Point include Lucky Dill Deli, China Wok, and Los Vallarta Mexican Restaurant.
Bayonet Point is also home to several highly-rated schools, including Bayonet Point Middle School and Chasco Elementary School. Pasco-Hernando State College has a campus in nearby New Port Richey, offering higher education opportunities for residents of Bayonet Point.
In addition to housing, dining, and education options, Bayonet Point has plenty of natural beauty to explore. The Werner-Boyce Salt Springs State Park is located nearby, offering hiking trails, kayaking, and birdwatching opportunities. The nearby Gulf of Mexico also provides plenty of opportunities for water activities, including fishing, boating, and swimming.
Overall, Bayonet Point, Florida, is a charming and affordable community with plenty to offer its residents. Whether you're looking for a new place to call home or just passing through, Bayonet Point is a great place to visit and explore.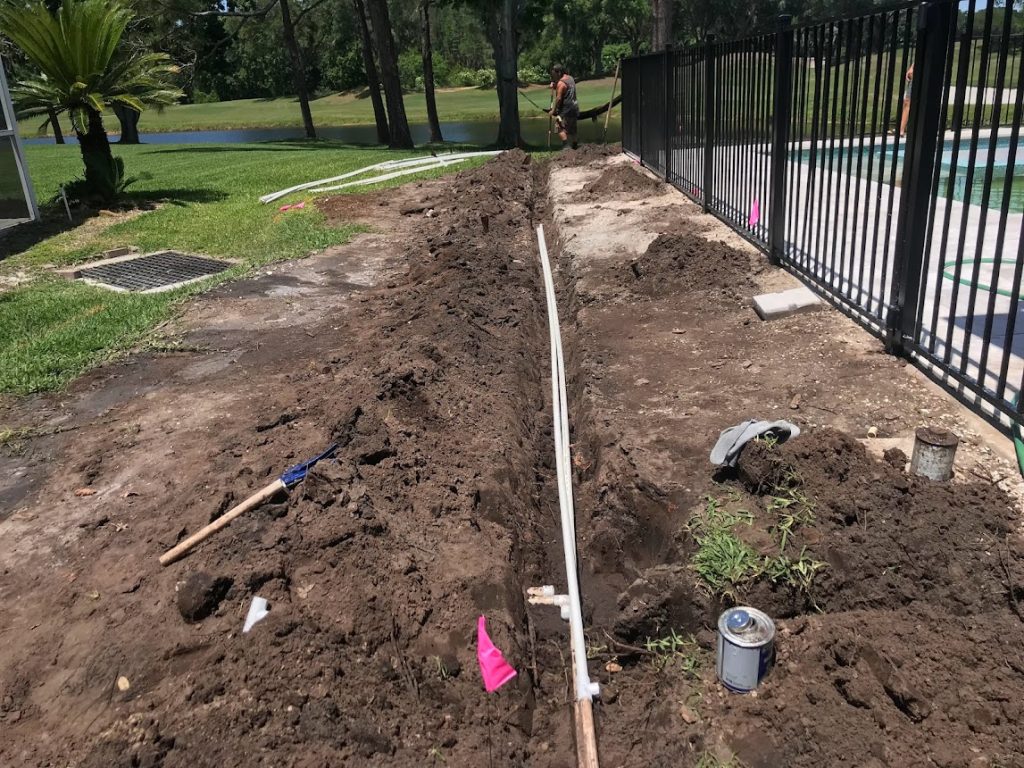 Lawn Sprinkler Repairs
Living in Florida, it's no secret that our lawns and gardens require regular irrigation to stay lush and healthy. However, with frequent use, sprinkler systems are prone to wear and tear, which can lead to various issues and malfunctions. Here are some of the most common sprinkler repairs in Florida that homeowners may encounter:
1. Broken sprinkler heads: One of the most common sprinkler repairs in Florida is a broken or damaged sprinkler head. This can occur due to accidental damage, exposure to extreme weather conditions, or wear and tear over time.
2. Clogged sprinkler heads: Dirt, debris, and mineral buildup can cause sprinkler heads to become clogged, leading to uneven water distribution and potentially damaging your lawn.
3. Leaking pipes: Leaking pipes can lead to a significant waste of water and increased water bills. Leaks can be caused by aging pipes, ground movement, or damage from tree roots.
4. Faulty valves: Sprinkler valves control the flow of water to different zones in your sprinkler system. When valves malfunction, it can lead to inadequate water flow or even complete failure of the system.
5. Wiring issues: Wiring problems can cause your sprinkler system to stop working altogether. Common wiring issues include damaged wires, corroded connections, and faulty controllers.
While some sprinkler repairs may be DIY-friendly, others require the expertise of a professional. That's where American Property Maintenance comes in. Our team of experienced technicians is equipped to handle all types of sprinkler repairs, from the most common issues to the most complex. We use state-of-the-art equipment and technology to diagnose and repair any problems with your sprinkler system quickly and efficiently.
When you hire American Property Maintenance for your sprinkler repair needs, you can trust that we'll get the job done right the first time. We understand how important your lawn and garden are to you, and we'll work tirelessly to ensure that your sprinkler system is functioning optimally to keep your greenery thriving.
In conclusion, while sprinkler systems are essential for maintaining a healthy lawn and garden in Florida, they do require regular maintenance and repairs. By keeping an eye out for common issues and hiring a trusted professional like American Property Maintenance to handle any necessary repairs, you can ensure that your sprinkler system continues to function efficiently for years to come.