Sprinkler Repair Land O Lakes Florida, American Property Maintenance has over 20 years of experience repairing lawn sprinkler systems, irrigation systems repairs, sprinkler valve repairs, and much more.
We always provide Free Estimates and all work is warranted we also have a variety of payment options Cash, Check, Credit Cards, and PayPal.

Sprinkler Repair Land O Lakes
Sprinkler System Maintenance is very important and gets overlooked by a lot of homeowners. You should have American Property Maintenance come out at least twice a year to check your sprinkler system.
We check for leaks underground that can sometimes be overseen.
Pool Revamps (Re-connection after Pool installation), This type of irrigation repair call is very important. Before the pool company rips out all the irrigation pipes call us.
We will locate your sprinkler pipes and cap them, we do this so that when your pool is finished we can just rerun your sprinkler pipes around your pool.

Patios Revamps (Reconnection after Patio install), This type of lawn sprinkler service call is just like the above explanation.
If you are getting a patio put in call us first so we can locate your irrigation pipes, this will save you money when your patio is finished.
Valve, Manifold Location, This type of sprinkler repair service call can be time-consuming. As an irrigation expert locating valves is something I'm good at. We have certain tools that can help us locate your lawn sprinkler valves if needed.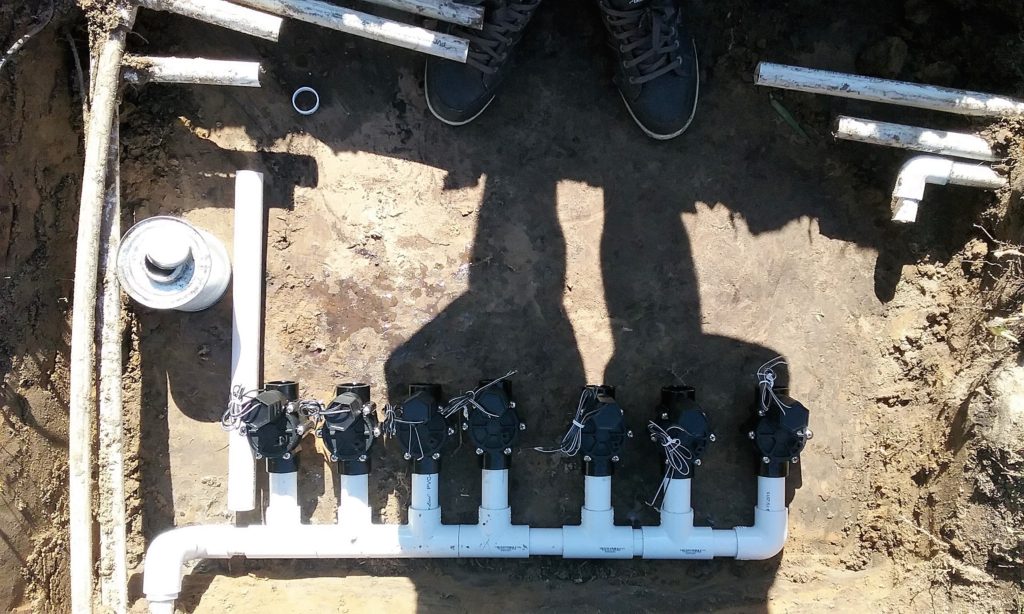 Sprinkler Valve Repair is one of our most common service calls for Sprinkler Repairs. The reason Sprinkler valve repairs are our most common call is that a sprinkler valve has two main parts a diaphragm and a solenoid.
Over time a sprinkler diaphragm just wears out, especially if your sprinklers are being fed from a well. Not only does well water leave brown stains on your house, driveway, and any other thing the water comes in contact with.
The sprinkler pump is pulling water from the well, it's not only pulling water up from the ground but it's pulling dirt and rocks which can and will ruin your sprinkler system diaphragm.
The solenoid is on top of the sprinkler valve and has two wires coming from it, one wire is called you're common and the other wire starts your sprinkler system zone. Just like any other electrical device, it wears out in time
Escape to the Great Outdoors in Land O' Lakes, Florida: A Nature-Lover's Paradise in the Sunshine State
Land O' Lakes is a beautiful and bustling suburban community located in Pasco County, Florida. With its warm tropical climate, natural surroundings, and vibrant shopping and entertainment scene, Land O' Lakes is a popular place for tourists and residents alike.
One of the standout features of Land O' Lakes is its natural beauty. The area is surrounded by rolling hills, pristine lakes, and miles of nature preserves, offering plenty of opportunities for outdoor recreation and scenic walks. Whether you're a nature lover, an outdoors person, or just looking for a peaceful escape from city life, Land O' Lakes is the perfect spot.
The next major draw of Land O' Lakes is its shopping and party scene. The city is home to several popular shopping centers and malls, including the Grove at Wesley Chapel and the Shops at Wiregrass. Here, you'll find a wide variety of shops, restaurants, and entertainment places, including movie theaters, bowling alleys, and arcades. Whether you're looking to indulge in some retail shopping or enjoy a beautiful night out on the town, Land O' Lakes has something for everyone.
For people looking for a more active experience, Land O' Lakes also offers several recreational places. The city is home to several parks and recreation areas, including sports fields, playgrounds, and plenty of picnic areas. Also, the area is surrounded by several cool lakes and awesome rivers, offering plenty of chances for fishing, boating, and kayaking.
I saved the best for last. Land O' Lakes is also a great spot to call home, with a strong sense of community and a super high quality of life. The city is home to several amazing schools, awesome medical facilities, and plenty of job opportunities, making it a super popular choice for young families, retirees, and business professionals. Whether you're looking for a peaceful suburban lifestyle or a  growing community, Land O' Lakes is a great pick.
Final Thought, Land O' Lakes is a wonderful place to visit and or call home. With its warm tropical climate, natural surroundings, and awesome shopping and entertainment scene, this city has something for everybody. Whether you're looking for a peaceful getaway, a highly active lifestyle, or a spot to call home, Land O' Lakes is a perfect choice.
Sprinkler Repair Land O Lakes